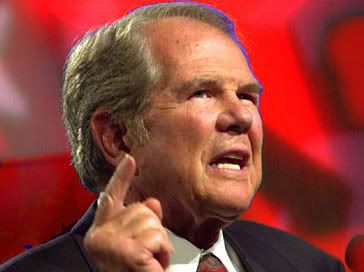 Pat Robertson is Fucking Insane.

Don't shoot someone tomorrow that you can shoot today
I'm sorry (no I'm not) but this guy's got to go. He's completely insane and he's an "advisor" to the Fuhrer (frightening. That's just what we need, one insane maniac advising another insane maniac.) Where are the martyrs in this country? 300 million people and not one willing martyr for the cause? Ok, fuck the cause. Where are the nuts who climb into clock towers and book depositories? Have they been lulled into apathy too? Great. I give up.